Description
Phlippens Smoked Sauce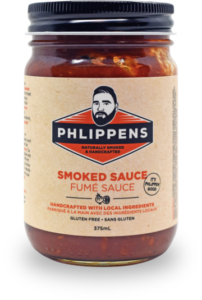 Handcrafted in small batches in Kitchener, Ontario, Phlippen premium sauces are naturally smoked with Furtado Farms cook wood and the finest of local ingredients. Now, this is not your ordinary condiment, in fact, Phlippens is proud to be a little different. Phlippen's sauces feature complex layers of flavours: sweet, hot, smoky and tangy. Whether it's on meat, vegetables, pizza or a sandwich, Kris wants to make your good food Phlippen good!
What is more Canadian than a Caesar?
A Phlippen Smoked Sauce cocktail!
INGREDIENTS
2 cups Tomato Juice
1 Tbsp. seasoned salt
DIRECTIONS
Mix tomato juice, vodka and barbecue sauce in pitcher until blended.

Moisten rims of 4 glasses with water, then dip in salt, turning to evenly coat each rim. Add prepared drink and ice just before serving. Garnish with skewers.